Recently it became known that Thailand Becomes First Country in Asia to Decriminalize Marijuana.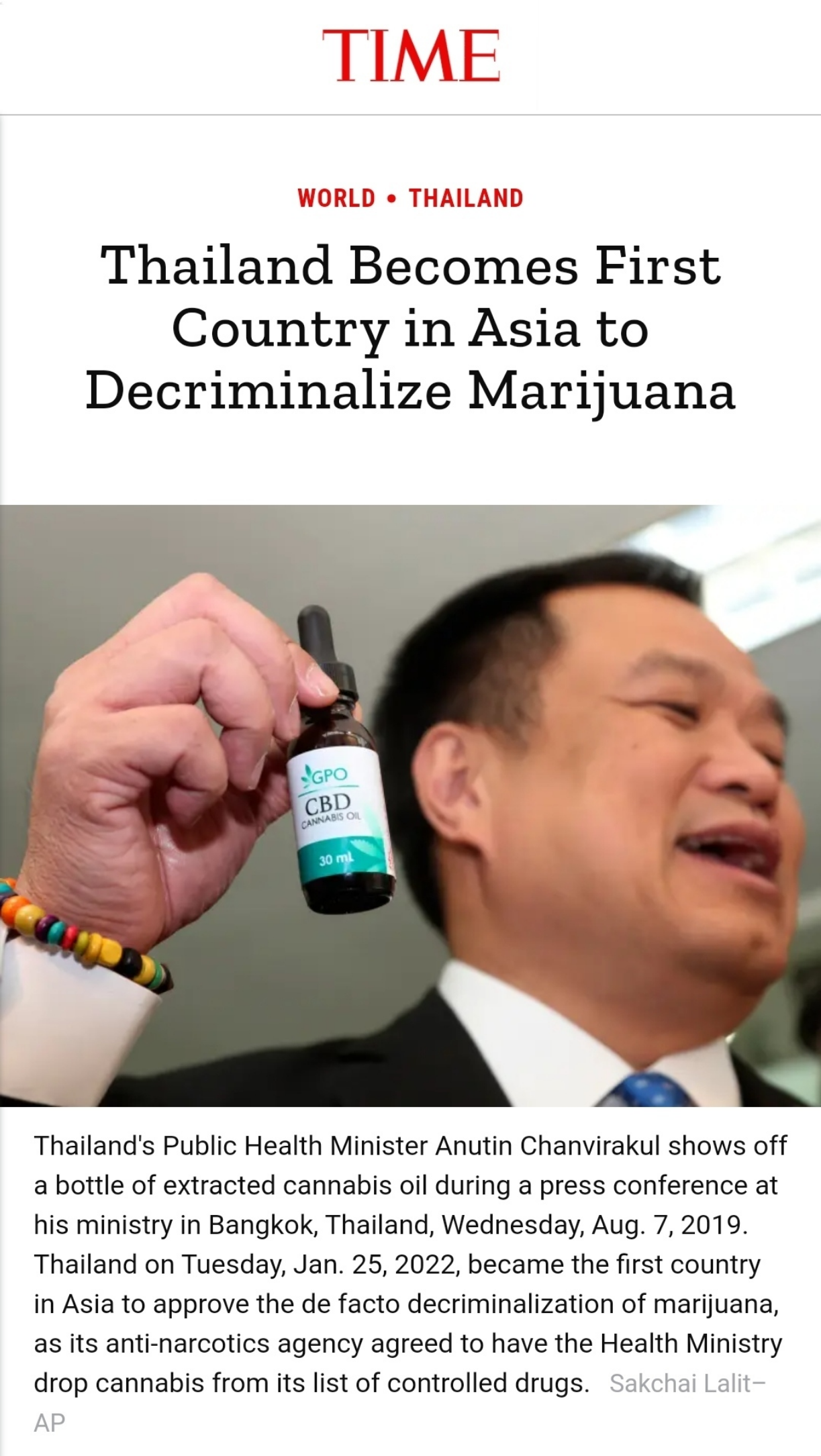 My objective opinion about the benefits and harms of cannabis, based.
Marijuana is a special gift of nature.
I, like many of my colleagues in the creative profession, had a short experience of learning and studying this natural gift. At that time it was possible - youth and inquisitiveness of the mind did their job. And here's what I found out for myself: Marijuana is a sacred and bipolar plant that can bring both good and evil to a person. Especially for people of creative professions. The use of marijuana in the creative process, according to many creative people with whom I had a chance to talk about it, said that marijuana is an artificial inspiration on vacation. Does marijuana really contribute to a person's rest?
From a conversation with one person:
- Americans know how to work like no other in the world.
And also to learn and compete.
But when it comes to recreation, we have a problem with this.
What is the profit from the rest?!
There are no medals at the Olympic Games for the most leisurely and "For first place in the World Laziness Championship" will not give positive recommendations. We win well and we know how to lose – this cannot be taken away from us. We can work until we drop. But we are not able to calm down. Send everything and enjoy a well-deserved rest. Instead– we have marijuana and television.
Beer and valium. And medical insurance, which we replenish as needed. Although with marijuana, as with sex, there is one story — everyone greatly exaggerates the effect.
After such a "holiday", depression usually sets in. Some people can't get out of this and start searching for that artificial freedom of thought and body that was during the "holiday".
The second side of marijuana is its medical properties. But in this case, we are not talking about any rest. When doctors prescribe marijuana therapy, these are not the best times for the patient. Marijuana helps to calm the nerves and quench a little hellish pain. Marijuana helps to calm the nerves and quench a little hellish pain. And it is unlikely that marijuana can be used as a preventive measure, because if you are a healthy person and there is no "Damokl qılıncı" disease hanging over you, then you do not need to think about a way to relax with the help of marijuana.
Unfortunately, a person cannot always afford to use the gifts of nature correctly. Marijuana can help a person overcome difficulties, but because of abuse, like alcohol and tobacco smoking, a person is exposed to mortal danger and the destruction of his own personality. Also, those who abuse alcohol and drugs endanger the existence of their loved ones for many generations to come.
Of course, and to my great regret, legalization in Thailand will attract a large number of tourists to the region. But can this step be considered a success for the country's economy and an ethically correct step?
I think that the legalization of marijuana should take place under the close attention of the state and medicine. Otherwise, this natural gift (marijuana) can turn into a weapon of mass destruction with a long-term effect. My verdict is that I am against the complete and uncontrolled legalization of marijuana, which can ruin the healthy co-existence of society!